Break from what I don't really know as I haven't done much today but look at stuff online! Wowie, just search Pinterest for "pom pom" and you will be on searching overload.
This picture from
bitchknits etsy store
has got to be the oddest thing in the search! She has
three pages
of such cats' hats and costumes! There is even one that even looks like a mohawk. Some may be done up in team colors, I'm guessing. I know exactly what Skyler would do with those things hanging down, chew the living daylights out of it. He loves strings, cords, bathrobe sashes, elastic.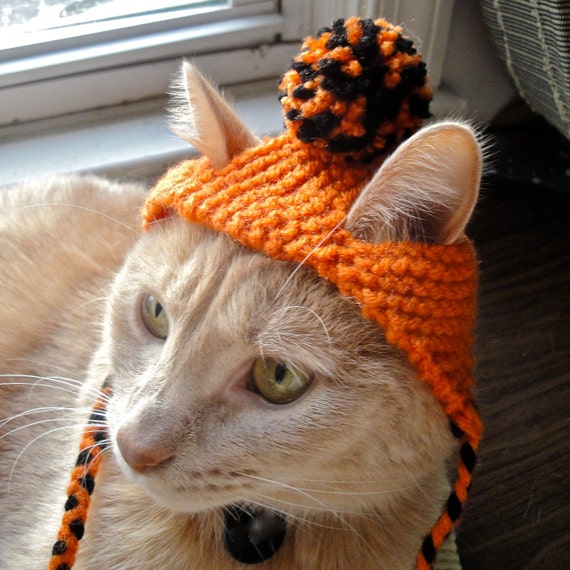 I am sensing a red theme here. I am wearing a red sweater and here is red yarn, a red cup of iced tea, red rick rack. I was not sure what size I need for my bird hop item so I picked some up at the store yesterday. The baby stuff was in my on-wall storage drawers and if I remember correctly, Maggie passed that on to me. No, I cannot show you what I am working on or have planned---hop stuff.
After going on inspiration overload this morning, I put my fingers to better use and started on a knitting project. Yeah knitting project that needs a pom pom atop it. The weird thing to me is that when you knit in the round, you knit every row to obtain stockinette stitch. To do garter stitch you have to do knit a row, purl a row to get that ridged look---like an inside out sock or the backside of a sweater. On straight needles and flat knitting, it is just the opposite.
The other part of the morning's search was trying to figure out what to make for supper----the age old thing of "what do you do with a lb. of ground beef?" Tons of things really but I do NOT want to make another run to the store when I am probably getting groceries tomorrow. It seems that anything I come up with I am missing an ingredient or we just had something similar last week. Or for example, it calls for corn tortillas and I have flour ones. Mexican is out. Or we already had a pasta meal---there goes Italian. Ditto something with rice. Had a form of soup too or we would go THAT route. I have a feeling it is going to end up be something like "diner dinner": meatloaf, mashed potatoes and a vegetable though I have been known to change my mind in the short time it takes to get out to the kitchen. Enough to make you throw up your hands and fix something else entirely----like breakfast for supper, LOL. Maybe I'll do the "what would you rather have?" game with the husband presenting him with two options and leave it up to him. That may work.
~~~~~~~~~~~~~~
The April Showers Blog Hop will be coming up next week----April 8th through the 18th. I think the badge button on
Sew We Quilt
says the 16th still but they must have added a few more days to accomodate the sign ups. I am not participating in the hop this round but do plan to follow along. Perhaps you will as a well? Here is the schedule.
MONDAY, APRIL 8:
Erin @ Sew at Home Mummy
Patty @ A Stitch in Time
Jenny @ Squawk That
Stacey @ The Tilted Quilt
Daryl @ Patchouli Moon Studio
Lisa @ In The Boon Docks
Julie @ Jolie Maxtin: the project girl
Beluah @ Sowing Stitches
Karen @ Bungalow Bay Quilts
Cyndi @ Stitch, Stitch, Stitch
DeAnna @ Georgia Girl Quilter
TUESDAY, APRIL 9th
Gina @ Sew Much and More
Sharon @ Vroomans Quilts
Theresa @ Bumbleberry Stitches
Jennet @ The Feathered Nest Studio
Patti @ A Yankee in Queen Liz's Court
Gene @ Gene Black - Alabama Artist
Susan @ Susan's Scrappy Domain
Bente @ I Like to Quiltblog
Deb @ Quilting & Other Craft Therapy
Megan @ AnnieOak Designs
WEDNESDAY, APRIL 10th
Hayley @ Mrs. Pickles
Karen @ Sew Much 2 Luv
Mélanie @ Les passions de Cliodana
Cindy @ Quilt Doodle Doodles
Jamie @ Busy Bee Quilts
Judy @ That Other Blog
Regena @ The Distracted Domestic
Amy @ Domesticity and other Ponderous Things
Denise @ My Whittle Adventures
Heather @ a Reformed Heath'n
Marica @ ~Englating~
THURSDAY, APRIL 11th
Kathy @ Kwilty Pleasures
Jill @ Apple Avenue Quilts
Cathy @ Cathy's Chatter
Quilter Kathy @ Kathy's Quilts
Marsha @ Quilter in Motion
Pat @ Life in the Scrapatch
Connie @ Shepody Mountain Crafter
Vickey @ Gingersnaps Quilts
Danielle @ A Geeky Crafty Life
Gwen @ Get More Done...Today
Rachel @ Sew Happily Ever After!
FRIDAY, APRIL 12th
Bobbie @ From This to That
Leslie @ Les Quilts
Kristen @ Meadowbrook
Lavonna @ ZellerWear
Lynn @ Thimblemouse & Spouse
Amy @ Sew Incredibly Crazy
Martha @ Living Life
Shawn @ Creative Inspiraciones
Rhonda @ Sunrise at Ravelly's!
Toye @ Quilting Adventures of a Ginger
MONDAY, APRIL 15th
Cathy @ Cate's Linens
Nicola @ Sunshine Reflections
Martina @ Sunshinequilting
Judith @ Frimart
Anita @ Anita's quilts en handwerken
Linda @ Sew Nicely
Kris @ krislovesfabric
Laura Ann @ The Fuzzy Hat Quilter
Carol @ Just let me Quilt
Selina @ Selina Quilts
Mary @ Crooked Gulley Art Quilts
Marisa @ Passion et Couture
TUESDAY, APRIL 16th
Cathi @ Quilt Obsession
Jane @ Jane's Fabrics and Quilts
Heidi @ Nutz4Redwork
Cherry @ Cherry'sPrairiePrimatives
Christine @ Quilt Monster in my Closet
Vickie @ More Stars in Comanche
Pauline @ Stekje
Jan @ Jan's Art Friendzy
Nissa @ Nissa Made Stuff
Robin @ As Sweet As Peaches
Lyndsey @ Sew Many Yarns
Eleni @ That Other Blog
Wednesday, April 17
Jen @ Quilter in the Closet
Marjorie @ Marjorie's Busy Corner
Elita @ A Pieceful Perspective
Green @ So Sew Green
Mara @ Greco Mara
Wendy @ Why Knot Kwilt?
Gmama Jane @ GrandMama's Stories
Debby @ Debby Kratovil Quilts
Britt-Inger @ Hill Valley Quilter
Connie @ Freemotion by the River
Beth @ Words and Stitches
Kathy @ iHeartSquishy
Thursday April 18
Merry Gay @ Merry Gay in Stitches
Mary @ Sew Maybe I Can
Joanne @ Everyone Deserves a Quilt
Linda @ Buzzing and Bumbling
Mary @ NeedledMom
Sherry @ Peanuts Patchwork
Fredrika @ Feltfree på Åsly
Shauna @ Welcome to Shauna's World
Sharon @ Dancing thru Threads
Madame Samm @ !Sew WE Quilt!